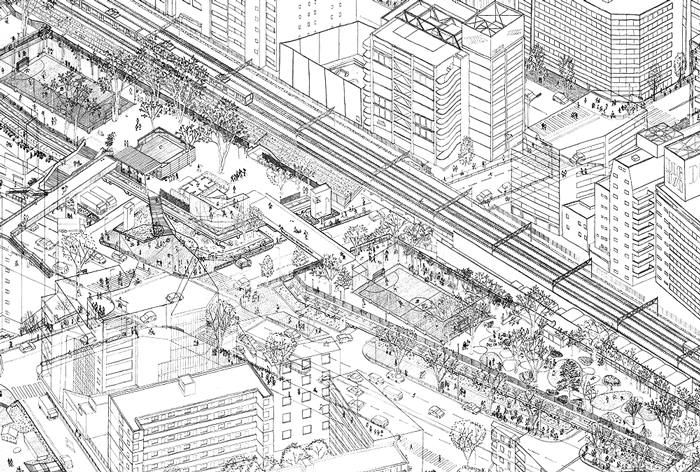 Atelier Bow-Wow, NIKE Miyashita Park, Tokyo, Axonometric drawing       

Description
Currently, more than half of the world's population lives in cities.  It is projected that by 2050 an additional 2.5 billion people will migrate to urban areas across the globe.  How we build new cities and adapt the current patterns of those that exist, will be at the forefront of the critical questions facing our society.  Additionally, the environment is a complex collection of intricacies that are shaped by policy. These policies impact the architecture, urbanism and communities upon which they are enacted.
The challenge of building smarter and more sustainable cities is a complex endeavor; and yet several key issues rise to the surface including: race and ethnicity, the understanding and preservation of the natural environment and its ecological patterns; the creation of equitable transportation networks that provide a multiplicity of experiences such as walking, biking, and public transportation; the adaptive re-use of existing buildings and infrastructure; and the integration of mixed-use and mixed-income environments capable of supporting more dynamic and vibrant societies.  
ARC 203, the third in a sequence of ten design studios at the University of Miami School of Architecture, focuses on the relationship between architecture and the built environment.  The studio stressed the topics of equitable design, regulatory contexts, urban resilience, building adaptation, and the impacts of climate change and sea-level-rise on our communities. 
Assignments and workshops were designed to build an understanding of what this might mean at both a personal and communal level.  A series of site visits, analytical drawings, and workshops provided a platform for the exploration and acquisition of knowledge in this field. 
Faculty
Germane Barnes, Coordinator
Juan Alayo
Claudia Ansorena
Rogelio Cadena
Alice Cimring
Maria Flores
Larissa Sherbakova
Sara Velasquez
Yasmine Zeghar
Time
9:05 am-12:00 pm
Locations
Barnes - Murphy A
Ansorena - Building 48 Third Floor
Alayo - Murphy Exterior Patio
Cadena – Murphy C Interior
Cimring – Murphy D Interior
Flores – Murphy E Interior 
Sherbakova – Murphy B Interior 
Zeghar – Building 49 Interior
Student Names
Germane Barnes' Section
Yash Agarwal
Justin Ammaturo
Bianca Bernstein
Tyson Hanning
Carlos Hernandez
Katherine Kuang
Gianna Novello
Riley Oram
Grace Paliseno
Sophia Palomino
Nefele Talavera
Nicholas Tournour
Juan Alayo's Section
Josh Carlson
Cameron Cathey
Lisa Chen
Grace Mikrut            
Courtney Pappas
Benjamin Pollak
Lorenzo Rosso-Mai
Samantha Schwartz
Maxim Waters
Caitlin Westring
Diego Zubillaga-Chavez        
Claudia Asorena's Section
Karla Fidalgo
Luisa Hernandez-Arboleda
Giovanna Imperiale
Nisan Korkmaz
Nathan Larabee
Jayson Moron
William Nicholson
Cade Odom
Kasey Ruiz
Jillian Saloma
Ashley Ward
Rogelio Cadena's Section  
Elizabeth Agurto
Ali Alnejadah
Catherine Calhoun
Eliana Cortes-Schiffbauer
Christopher Fischer-Hylton
Joshua Izen
Matthew Jarmon
Henry Lewiston
Pablo Vera
Sage Zheng
Harry Zurcher
Alice Cimring's Section
Diego Ascanio
Noah Cassius
Jessica Hutchinson
Emery Medlock
Madeline Meyer
Lucia "Lucy" Miller
Robert Sims-Dubon
Gabrielle Standfield
Patrick Talento
Sofia Urday
Maria Flores's Section
Behbehani "Nouf" Behbehani
Andrea Benhamron
Payton Broadwell
Jaylin Cole
Brennan Cook
Christiana Domosaru
Alina Guzman-Azocar
Justin Jayne
William Minchala
Deirdre Nash
Aaron Parks
Larissa Sherbakova's Section
Katerina del Canal 
Bianca Del Valle          
Matthew Gaynor
William Hammer
Giancarlo Joyner
Lucas Lowder
Elba Mota
Alec Rodriguez
Shari Soavi
Emily Solis
Kylie Spakausky
Sara Velasquez's Section
Kate Camphausen
Taylor Dutil 
Abdulwahab Eisa
Jennifer Mitchell
Gabriela Paredes
Ryan Phelps
Matthew Sebiri
Ben Skavnak
Valentina Urbicain
Naz Usman
Gardner Wilburn
Yasmine Zeghar's Section
Fabio Cesaroni
Nelson Fernandez
Sarah Hernandez
Tomas Hudson
Ana Montes
Carolyn Simmons
Vero Vilato
Kendal Wellbrook
Lilyana Zuniga-Hernandez